REGULAR - Tech Job & Career Orientation Cousre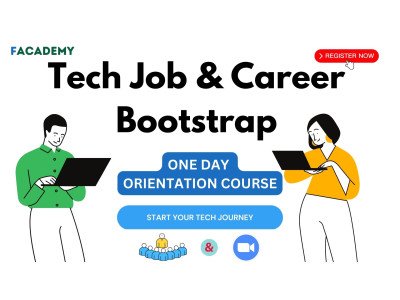 Attention all tech enthusiasts! Are you ready to take the first step toward an exciting career in technology? Look no further, because our one-day technology career orientation program is the perfect opportunity for you.
At this event, you'll explore various tech career paths, including front-end developer, SQL database administrator, data analyst, scrum master, backend developer, full-stack developer, DevOps, and many others. Our goal is to help you find the right tech career path that aligns with your skills and interests.
Not only will you gain knowledge about different tech roles, but we're also excited to announce that two lucky attendees will receive free scholarships to study any one of our courses that match the career path they choose at the event. So not only will you learn about different tech roles, but you'll also have a chance to kick-start your education in the field of your choice.
Our program is designed to provide you with practical knowledge and hands-on experience. You'll work on real-world projects, learn about the latest tech tools and trends, and get the chance to engage with industry professionals who will share their experiences and insights.
But that's not all - you'll also have the opportunity to connect with like-minded individuals who share your passion for tech. You'll get the chance to network with other attendees, industry professionals, and mentors who can guide you towards success in your chosen tech career path.
Don't miss out on this amazing opportunity to gain valuable knowledge, hands-on experience, and potentially receive a free scholarship to kick-start your education. Join us for an unforgettable day of tech exploration and discover the right tech career path for you. Register now to secure your spot and be in with a chance to win a free scholarship!